IVF Cycle Complication Insurance Coverage
®

Monthly Reporting

IVF Clinics, Surrogate Agency's, Egg Donor Agency's & all Assisted Reproduction Professionals in the Industry. Become a New Life Agency Preferred Provider Today!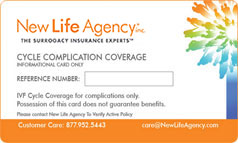 Professional & General Liability
We understand the exposure so that you can properly insure your risk. New Life Agency understands the ever changing and increasing FDA and other regulations in your industry and is prepared to insure you against your current and future exposures. We have underwritten a family of FDA based insurance product exclusively for the Assisted Reproduction professional.
Cyber Insurance
Cyber Crime How Vulnerable Are You? Expanding your business brings you closer to your customers, but also presents opportunities to cybercriminals trying to steal valuable, heavily regulated information. The challenge of protecting sensitive insurance information and complying with regulations is more difficult when they can be accessed by anyone, from anywhere, with unsecured devices.
We offer:

Identity theft-related fraud resolution services for individuals enrolled in credit monitoring who become victims of identity theft.
Additional insuring agreement providing for indemnification of Payment Card Industry (PCI) fines and penalties, covering up to $100,000 in fines and penalties resulting from non-compliance with published PCI data security standards.
A free loss control information service provided with each policy, including compliance and breach response information, email alerts of key legal and regulatory developments, and expert on-line support for client questions on data security issues.
Regulatory defense and penalties coverage up to $1,000,000; Public relations and crisis management expenses up to $250,000.
And much much more….